Last Updated: May 30, 2022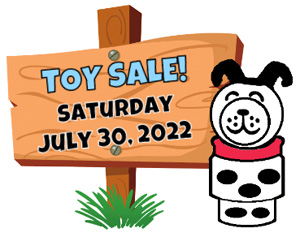 General Info:

The Fisher-Price Collectors Club *usually* holds a sale once a year during our annual convention, which takes place during the last full weekend in July. (Covid, of course, cancelled our 2020 sale). To see when the next sale is, visit our Toy Show and Sale Page. Our current location for the sale is the Blazing Star Masonic Lodge, located at 645 Main Street in East Aurora NY, in a large multi-purpose room. The sale takes place as part of the East Aurora Chamber of Commerce's Street and Sidewalk Sale, which brings lots of people to town that weekend!


Information for 2022:

We are having a sale in 2022! The date is Saturday July 30th at the Blazing Star Masonic Lodge in East Aurora NY. The address is 645 Main Street. The hours are 9:00 am to 2:00 pm.

The sale usually has between 5 and 10 vendors (sometimes more in a bumper year!) selling classic Fisher-Price and similarly related toys. Classic Little People (Pre-1990) are the most sought after, along with vintage Fisher-Price wooden pull toys. Recently, Adventure People have been in huge demand, especially boxed and rare sets. Other toys that vendors sell are Huskys, Chunkys, newer Little People, Toyfest toys, dolls, puzzles, Fisher-Price memoribilia from retired employees, plus much more! Vendors are welcomed to sell similar toys that may appeal to the same audience as Fisher-Price toys, like vintage Playskool "blockheads", Hasbro Weebles, and Kenner Tree Tots. We are looking for more vendors and the sale is now open to anyone with Fisher-Price toys looking to sell. It will be $45 to rent a table, and $25 to rent a second one, space permitting. Our Club's awesome VP Becky is chairperson of the sale. If interested, you can email the club at fpclub@att.net and we will send your info to Becky. She will then contact you with more information (contract, how to pay, etc). Whether you sold before at our sale or even back at Toyfest, or if you just have extra toys you need to find a good home, consider becoming a vendor at our sale! This sale is the only one of its kind, there is nothing like it anywhere!


What Our Shoppers Look For
At the sale, most of our shoppers are looking for vintage Fisher-Price toys (yeah that is pretty self-explanatory!). Toys made before 1990 tend to be the most collectible, but there are some collectors for newer toys, too. Far and Away, the top selling toys are the classic Little People sets from the 1960's to 1989, especially parts and figures for those sets. Boxed sets and rare sets also tend to sell well. Some people will pay top dollar for the "one piece they are missing" to complete their set! Also, the wooden pull toys (pre-1970) and the oldest ones made by Fisher-Price (1930's etc.) sell well.

Other Fisher-Price toy lines that sellers have been known to bring are: wind-up musical toys; Adventure People and Huskies (1970's-1980's); Chunkies (the 1990-1996 Little People); some newer Little People toys (The post 1990 ones tend not be what our shoppers are looking for, but hey, you can try!); 1970's/1980's dollhouse sets; Toyfest replicas; Fisher-Price factory and employee exclusive items; other Fisher-Price toys from the 1970's and 1980's; and any collectible older toy in original packaging. Pretty much any older Fisher-Price toy has a potential collector out there somewhere! Our vendors are also welcome to sell other lines of collectible toys - Weebles, older Playskool, popular 1970's toys, etc. Most of our shoppers are looking for Fisher-Price and similarly-made toys, which is something to keep in mind when setting up a table to sell. Inventory changes every year depending on what the vendors are bringing to sell. Sometimes Toyfest toys can be a tough sale, since there are so many out there and not much demand (but vendors are welcomed to try!). See photos at our Toy Sale Page to view what sellers have been selling in the past, and see if that appeals to you as a potential seller.
More Info
If you want more information about the sale, feel free to email the club at fpclub@att.net!
Home Page / News and Updates / Gabby Goose Newsletter / Annual Toy Sale / Convention 2021 / Adventure People Figures ID Guide / Adventure People Overview / The Adventure People Illustrated Carded Figures / Wooden Pull Trains / East Aurora Information / Overview of Lines of Fisher-Price Toys / History and Goals of the club / Membership Information (Joining the club) / Some member's Collection Photos / Overview of Little People Toys / Fisher-Price toy guide books / More Links / Member Memorials /
Back to the Fisher-Price Collectors Club Home Page
www.fpclub.org