Last Updated: January 29, 2023
Welcome!

The Fisher-Price Collectors Club first formed in 1993, as a way to bring together people who love the toys of the Fisher-Price Company. This page tells a little about the club - our history, who's in the club, and our mission and goals.

Club History
Who's In The Club
What We Do

---
Club History: The Fisher-Price Collectors Club first began in the year 1993. The club was started by our founder, Jeanne, who had a vision to connect together people who shared a love for Fisher-Price toys. The club is a not-for-profit entity, and we have official permission from the Fisher-Price toy company to exist and use the Fisher-Price name. Since 1993, the club has grown considerably from the early days! Our club's activities have included newsletters (sent 3 times a year), plus online activities (chat sessions and Facebook), plus a yearly event to get together in person (our convention). Our convention always centered around East Aurora, NY. Why East Aurora? It's the home of the Fisher-Price Company, of course! Check any older (1980's or before) toy made by Fisher-Price, and you almost always could find "East Aurora, NY" displayed on it somewhere!


Our convention has changed over the years. Up until 2007, our convention coincided with an annual event called Toyfest, which took place during the last full weekend in August in East Aurora, NY. Toyfest was a weekend-long festival that celebrated the town's toy history. Toyfest had everything a town-wide fair would have: carnival rides; a parade; races; antique car show; food and vendors; activities for kids; special Fisher-Price replica toys made just for the event; and our favorite - an antique toy show and sale! Having the convention during Toyfest made it a great weekend for our club.

Well sadly, primarily due to financial reasons, East Aurora discontinued Toyfest entirely. 2007 was the last year, and there are absolutely no plans for it to return. This left the club's convention and toy sale in limbo. In 2010, the club decided to plan the convention during a different weekend in East Aurora, called Reunion Weekend. This weekend is usually the last full weekend in July, and it brings many people to East Aurora for reunions. There is also a Street Fair and Sale on Main Street, which brings thousands of people to town as well. And ever since (as of this writing in 2019) this last weekend in July has been our "home" for our conventions, and we love it!
Who's in the Club: Our club has many members through the years, peaking with over 400 members in the late 1990's! Today we are much smaller than we used to be (as sadly quite a few original founding members have passed on), but with many new dedicated members, we continue on! We have members who have huge collections of Fisher-Price toys, and some who just have a few favorites. We have members who have every single Fisher-Price Little People set in the original box; we have other members who have entire barns filled with toys! (Yes we all know who that is!!). We have people who have displays in rooms in their houses, and others who decorate rooms with the toys. We have members who only collect certain lines of toys (like wind-up musical ones), and some who love every Fisher-Price toy under the sun.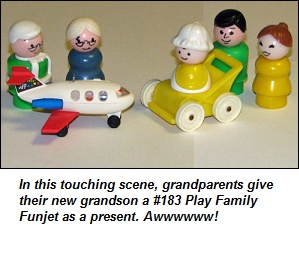 We have quite a few members ("our core") who have been in the club since the beginning, and have stayed very involved over the years. Age-wise, we span the generations in the club; we have many members who are now grandparents that grew up with the wooden pull toys of the 1930's and 1940's. We have quite a few members who grew up playing with the Little People toys in the 1970's and 1980's, who want to own again their favorite toys and pass them down to their own children. We have others who didn't even grow up with Fisher-Price toys, but now enjoy them as adults with their kids and grandkids. We have members who like using the Little People toys for crafting. We even have members who worked at the Fisher-Price factory and actually help create the toys we love. We have other members who enjoy the "business" end of these collectible toys; finding them (at rummage sales, flea markets, yard sales), and then selling them (since some are very valuable). Probably just about everyone in the club has an Ebay ID! The club has been trending more female in recent years, but not to worry, there are plenty of menfolk too! And many married couples are among our membership.

Geographically, our club members are from all over the USA and Canada, too! Quite a few members live in upstate NY, close to East Aurora and Fisher-Price toys. We have many members on the West Coast and in the Southwest. A few club members live in Canada in areas not far from Buffalo, which makes getting to East Aurora easy for them! We have some members in the South, Mid-Atlantic and Northeast, making the drive to the convention every year. We have other members who always come to the convention in their RV, seeing the country as they go. We even had some international members, keeping their membership even when leaving the USA. You certainly don't have to live near East Aurora to be a part of the club!

Club members can get involved in as little or as much as they like. We have some members who live far from East Aurora who can never make the conventions, but enjoy supporting the club and the works we do. We have others who never miss a convention and it's their once-a-year opportunity to see their friends! We have club members who have known each other for 20 plus years; and we have newer members who bring the family and make coming to the convention part of their summer road trip. We have some members who only got to attend a convention once; the rest of the club always cherishes the fact we could meet them at least one time and put a face to the name! The club has a Board, which consists of roughly 8-9 members. We also have a president, a vice-president, a treasurer, and a recording secretary. These people get together online for meetings, and in person once-a-year at the convention.
Mission, Goals, and What We Do: The Fisher-Price Collectors Club is a non-profit club organized for the caring and sharing of Fisher-Price toys. We aim to give our members a venue to meet and talk with others who enjoy Fisher-Price toys; we are not just some online Facebook or Yahoo groups which seem to fizzle in and out of existence - we are real people who get together in real life! Besides our club activities (newsletters, convention), we also raise money and use proceeds from toy donations to support various children charities. One charity is Hunter's Hope, which is raising awareness and looking for a cure for Crabbe's Disease, which took the life of Hunter, the son of the Buffalo Bill's quarterback Jim Kelly. We also have donated to "make a wish" organizations, to grant wishes to terminally ill children. Some others organizations that the club supported included a local charity providing for flood relief; an organization providing lunches for at-risk children on weekends; plus charities supporting local veterans groups.

Our official mission statement, much of which was listed in Brad Cassity's Fisher-Price book, is listed below:

The Fisher-Price Collectors Club is a non-profit 501(c)(3) organized for the caring and sharing of Fisher-Price toys. We were organized in 1993 and incorporated in Arizona in 1994. We received notification from the Internal Revenue Service that effective since 1994, The Fisher-Price Collectors Club is recognized as a not-for-profit company under the Internal Revenue Code section 501(c)(3). As such, contributions made to the Fisher-Price Collectors Club are deductible as charitable contributions. Membership fees are not charitable contributions. Members elect the Board of Directors.

The purpose of the corporation is to study, research, discuss, and write about Fisher-Price toys; to preserve and promote the collection of Fisher-Price toys and related items; and to contribute to those activities for which the purposes are charitable, scientific, literary, or educational. The club holds an annual convention in East Aurora, NY, home of Fisher-Price. The Gabby Goose newsletter is published three times a year by the club. There is usually a fall/winter issue; a spring issue; and a summer issue (usually July) which contains the convention information. Materials and ads must be submitted one month before the issue date. Ads are free up to 40 words.
To join the Fisher-Price Collectors Club, Click here!


Well, there you have it! This sums up well what the club is all about, more or less!



Home Page / Convention 2023 / Annual Toy Sale / News and Updates / Gabby Goose Newsletter / East Aurora Information / Fisher-Price Facebook Groups / Adventure People Figures ID Guide / Adventure People Overview / The Adventure People Illustrated Carded Figures / Wooden Pull Trains / History and Goals of the club / Membership Information (Joining the club) / Member Collection Photos / Overview of Little People Toys / Fisher-Price toy guide books / More Links / Member Memorials /
Back to the Fisher-Price Collectors Club Home Page
www.fpclub.org