Last Updated: July 26, 2023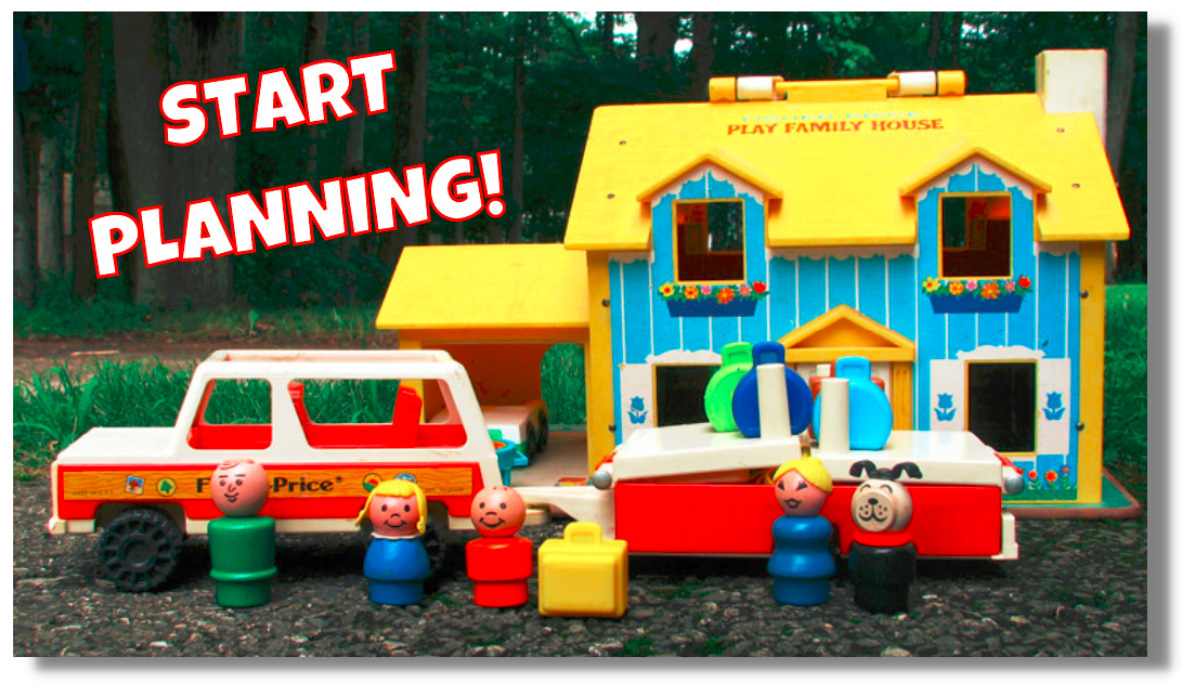 ***** NOTE TO ALL CLUB MEMBERS! *****

The Spring Gabby Goose newsletter was mailed out the 3rd week of June. If you did not receive one, let us know right away! Inside the newsletter are the invitations for attending the annual dinner, which is $25 a person. The date is Friday July 28th at Bravo Cafe in Elma NY, starting around 6:00 pm. Bravo is located at 5781 Seneca Street. Club members are welcomed to bring guests, who are also $25 a person. If you want to attend, you can mail back the invitation along with a check for $25 a person to the addressed listed on the invitation. You can also use ZELLE or Paypal to the email address of fpcc1993@gmail.com to pay for the dinner. We must have our final count for the dinner soon, so we need to know no later than July 15 if you are coming!




Hello Club Members! The Fisher-Price Collectors Club will be holding our next annual convention on Friday July 28th and Saturday July 29th, 2023! All events will take place in East Aurora NY, or in the immediate area. More details will be posted as plans get finalized, so watch this page! Club members will also get the finalized schedule in the spring issue of the Gabby Goose, which will be mailed out to all member before the convention. The Newsletter will have instructions and invitations to the annual dinner for club members and their guests who want to attend. Some of the events listed here are for club members only. The sale is open to everyone.







WHEN: Friday July 28th and Saturday July 29th, 2023

WHERE: All events will be in the East Aurora NY area. See our page about East Aurora to get an idea of where it is, local hotels, and what is in the area.

OVERVIEW: The convention is held over 2 days. On Friday, we usually have a social hour, annual dinner, possibly other events for club members. Saturday we hold the annual sale (open to everyone).

FRIDAY MORNING (JULY 28th): The club hoped to plan a gathering this morning, but plans fell through. We hope to try again and succeed next year! Though one thing many club members traditionally do is shop at the Fisher-Price factory store on Friday morning/early afternoon before the social hour. Though most of the toys for sale are new, sometimes there is cool clothing or vintage-toy-themed memorabilia for sale.

SOCIAL HOUR (FRIDAY JULY 28th): The social hour is for club members and their guests and takes place on Friday afternoon. The place is the Masonic Lodge at 645 Main Street from 2:30 to 3:30. Come and chat! Light refreshments are planned to be served. Social Hour ends promptly at 3:30 so we can hold the annual board meeting.

ANNUAL DINNER (FRIDAY JULY 28th): The annual dinner for club members and their guests will be held on Friday evening July 28th, starting around 6:00 pm and usually lasting until 8:30 - 9:00 pm. Reservations are required to attend the dinner and it's $25 a person. Club members will be mailed invitations to the dinner in the June Gabby Goose newsletter, which is being mailed out the week of June 20th. Payment can be snail-mailed, or use Paypal or Zelle. The location is the same as the prior years, Bravo Cafe in nearby Elma NY, at 5781 Seneca Street (not far from where Transit Street meets Rt 400). Dress is casual/whatever you like - some people dress up, while others wear their favorite Fisher-Price t-shirt! We have door prizes, Fisher-Price games and contests, plus a speaker talking about their favorite Fisher-Price toys! Dinner will be served buffet-style with the usual choices of meat (usually one is chicken), potatoes, vegetables, bread and dessert, plus one vegetarian choice as well. Dessert will be Fisher-Price themed cupcakes this year. If anyone wants alcoholic beverages, people can buy their own drinks at Bravo's cash bar. The dinner is not to be missed, we always have a blast gabbing the evening away talking about our collections and every else under the sun! There is a lot of interest in attending this year and space is limited, so get your reservations in early! Our amazing club president Audrey always does an AWESOME job hosting the event!!!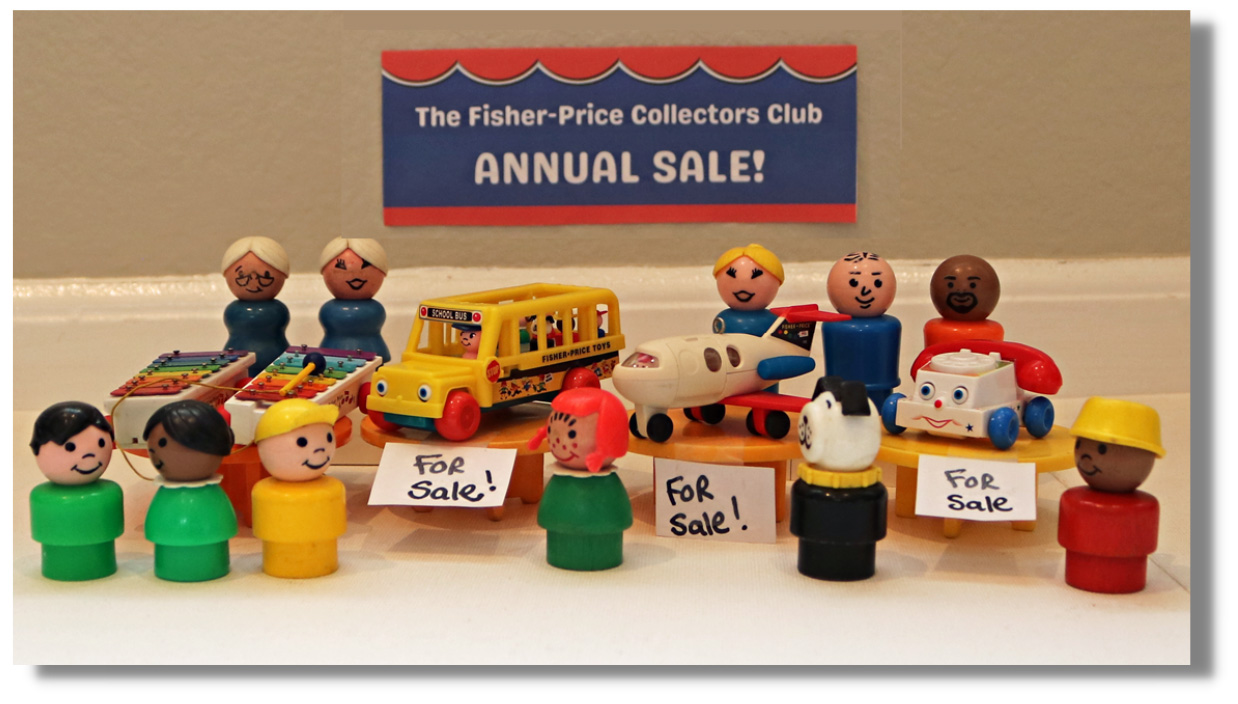 ANNUAL TOY SALE (OPEN TO EVERYONE!) SATURDAY JULY 29th: The Fisher-Price Collectors Club's annual Toy Sale (nicknamed "Toys From the Attic") will be held on Saturday July 29th, 2023 rain or shine! The location is the Blazing Star Masonic Lodge in East Aurora NY, located at 645 Main Street. Hours are 9:00 am to 2:00 pm. The sale is open to all Fisher-Price fans, club members and general public alike! The sale is held in a multi-purpose room inside the lodge, filled with individual vendors selling toys all throughout the room. This year we are absolutely packed with vendors, the most we ever had! We have every single table filled with vendors selling their awesome toys! For buying, cash is king; it is up to each individual vendor whether they accept credit cards, Paypal, Venmo or similar. Toys for sale tend to be Pre-1990 ones which include classic Little People sets, figures and pieces; vintage wooden pull toys; Fisher-Price toys in original boxes; crafts made with Fisher-Price toys; Toyfest Toys; usually some Adventure People loose figures and vehicles; Huskys; wooden puzzles; dolls; Fisher-Price memorabilia (pictures, posters, etc); similar toys from the 1970's/1980's; and more! Inventory changes year to year, so you never know what toy may pop up! See our Toy Sale Page for more info.

EAST AURORA STREET AND SIDEWALK SALE: Our sale is a proud part of the East Aurora Chamber of Commerce's Street and Sidewalk Sale, which is happening on Main Street on Saturday July 29th, 2023 right outside the Lodge. The hours are roughly 9:00 am to around 4:00 pm (The club's sale ends earlier at 2:00 pm). There will be plenty of food vendors, crafts, community booths, shopping, contests for the kids, and lots more! So come visit our club's sale, plus the street festival too!


That's the Schedule! Collectors, hope to see you in beautiful East Aurora NY!
Home Page / Convention 2023 / Annual Toy Sale / News and Updates / Gabby Goose Newsletter / East Aurora Information / Fisher-Price Facebook Groups / Adventure People Figures ID Guide / Adventure People Overview / The Adventure People Illustrated Carded Figures / Wooden Pull Trains / History and Goals of the club / Membership Information (Joining the club) / Member Collection Photos / Overview of Little People Toys / Fisher-Price toy guide books / More Links / Member Memorials /
Back to the Fisher-Price Collectors Club Home Page
www.fpclub.org