Last Updated: December 5, 2021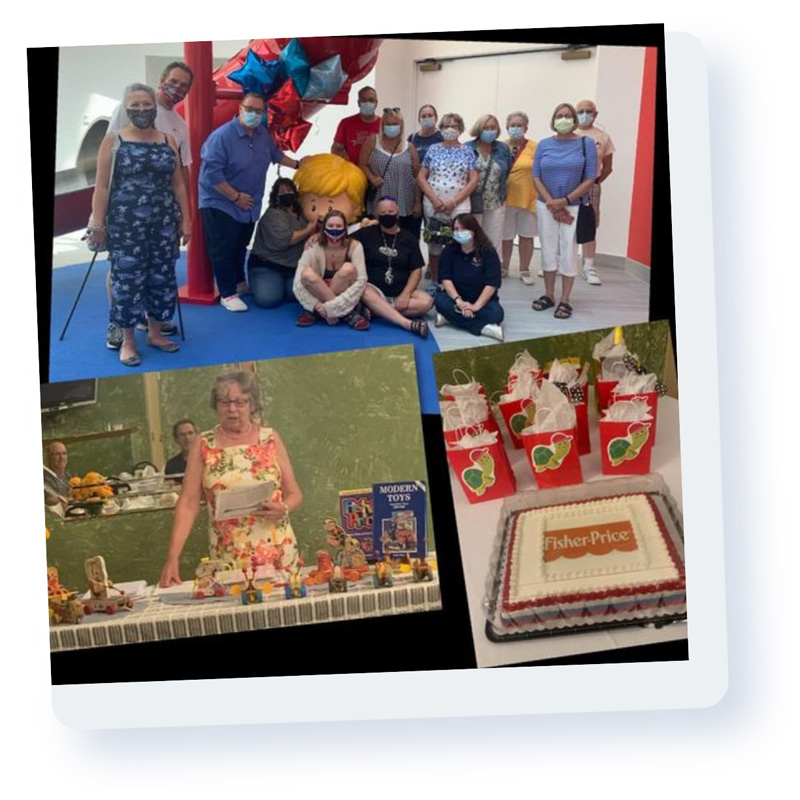 The Fisher-Price Collectors Club held our annual convention on July 23 - 24, 2021 in East Aurora NY. Earlier in the year, it appeared that the convention would be cancelled yet again due to covid restrictions, but restrictions were lifted just in time! We had our awesome dinner, our awesome annual sale, and as a bonus, a fantastic visit to the Fisher-Price campus! Many thanks to the club's amazing board for planning the entire convention with only a few weeks to plan!

Friday July 23rd:

The festivities kicked off the morning of Friday July 23rd. Many members who already arrived in East Aurora got together at the Fisher-Price factory campus on Girard Avenue. Everyone, of course, had to tour the factory store and see what they got! The store sells mainly new Fisher-Price toys, but occasionally they have cool retro-themed merchandise and clothing for sale. Always worth a visit! Afterwards, club members were invited to a once-in-a-lifetime tour of the factory itself!! Those on the tour visited the spot where Irving Price's office used to be; played in the new Playlab for testing new toys; saw the product and development area; and got to slide down a 3-story interior slide!! Many thanks to those who organized this fantastic tour, and many thanks to Fisher-Price for being so welcoming!

During the afternoon, the club held our social hour at the Blazing Star Masonic Lodge on Main Street. Everyone chatted the time away, seeing how everyone fared during the last year. Sadly we had some members lose family members to covid. The board met and discussed business for the upcoming year. Afterwards, everyone heading out to get ready for our annual dinner!


Our annual dinner was held at Bravo Cafe in nearby Elma NY, a restaurant we have used many times before. With barely a month to plan the convention, the club was worried that many people would not be able to come. Our worries were put to rest as we had 20 club members able to attend! And what an evening we had! The food was served buffet-style, with a cash bar to buy drinks. Everyone gabbed about their toy collections and life in general, as we always do! We had games to win prizes - one was "how many green little people dads are in the jar"??? (The answer was 118!). We had special speakers this year - two sisters who love Fisher-Price, so double the fun!! One sister talked of her collecting over the years, and the other talked of her love of Fisher-Price Hallmark ornaments (just about every club member has a few of those!). Topping off the evening was Fisher-Price Bingo with tons of prizes for all! After 2 hours, it was time to head back to our hotels or homes, as the annual toy sale is the next day!

Saturday July 24th, 2021:

Our annual sale was held at the Blazing Star Masonic Lodge from 9:00 am to 2:00 pm. We were part of the abbreviated East Aurora Street and Sidewalk Sale, which was much smaller this year due to covid. Even with the short notice, we had 12 sellers! The sale did well in light of the fact the Sidewalk Sale drew far less people this year. Plenty of Fisher-Price toys were being sold all morning. One seller had a table of Adventure People which sold out completely within minutes of opening! Little People figures and pieces, wooden pull toys, Toyfest toys and memorabilia, dolls, Huskys, boxed toys, loose bits and pieces - the sale had it all!

After the sale, the club members said their byes as we hit the road home with our new toys and new memories. What a great time we had! Everyone was so happy just to be together again after such a horrendous year. Happy to report the club is already planning the next convention for July 2022, so watch this website for more info as it comes!

Below are some photos from the convention and sale! What a weekend!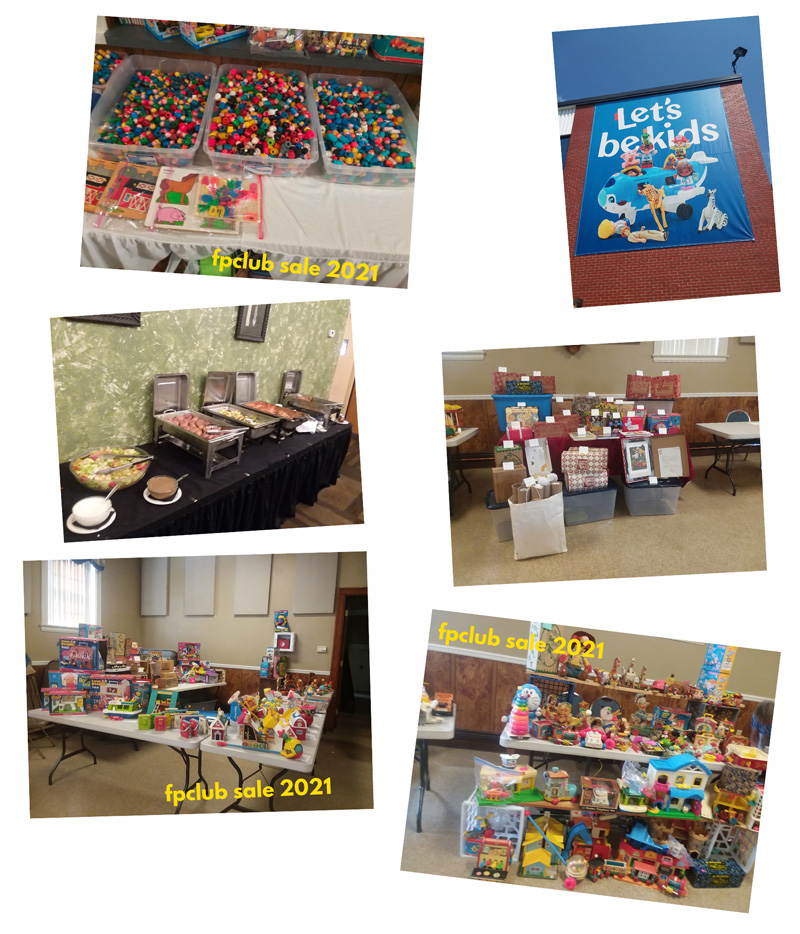 Home Page / News and Updates / Gabby Goose Newsletter / Annual Toy Sale / Convention 2021 / Adventure People Figures ID Guide / Adventure People Overview / The Adventure People Illustrated Carded Figures Wooden Pull Trains / East Aurora Information / Overview of Lines of Fisher-Price Toys / History and Goals of the club / Membership Information (Joining the club) / Some member's Collection Photos / Overview of Little People Toys / Fisher-Price toy guide books / More Links / Member Memorials / Paypal For Club Members /
Back to the Fisher-Price Collectors Club Home Page
www.fpclub.org
Fisher-Price Collectors Club